#1 Combo Bouncer Rental Houston Kids and Adults Enjoy!
Anyone looking for the coolest options for a combo bouncer rental Houston kids and adults can enjoy will be thrilled with the over-the-top selections at Martibirds Inflatables! We have made our rental process super easy to ensure that our customers can rent combo bouncer Houston can't get enough of for any occasion and have the units delivered without a hassle. Whether you're planning a family reunion, school field day, corporate team-building weekend, or birthday party, you will find the most popular inflatables to ensure that your event is as fun and as memorable as possible. And we don't just stop at combo bouncers, we also offer a wide variety of other inflatables such as obstacle courses, toddler playgrounds, and water slide rentals in the Houston, Texas area.
Is your child's birthday coming up? Whether you are planning on an elaborate one-of-a-kind party at a local park or a simple birthday celebration at home, treat them to one of our options for a combo bouncer rental Houston kids love for maximum fun. Everyone at the party will be thrilled to see a giant jumper set up, featuring a dry slide and a bouncy area. We guarantee that every single outdoor or indoor combo bouncer in Houston from Martibirds is up to industry standards. Enjoy the peace that comes from renting a combo bouncy castle from a local party rental company that is state-licensed and insured and prioritizes the safety of your guests.
We are very proud and thrilled to deliver high-quality options for a combo bouncy house rental Houston parents can trust to customers located throughout Harris County. You can rely on us to supply the fun at your event in the form of affordable, colorful, and fun water bouncer rentals Houston that the kids and adults at your event can enjoy for hours and hours. Whether you are looking for options that full families can enjoy for a corporate picnic or team-building event, a Princess 5n1 combo for a little girl's tea party, or a T-Rex Combo for a school festival, we're available to help you find the best inflatable rental options at the best price. Browse our inventory of combo rentals and choose the best combo bounce castle through our convenient online ordering service today!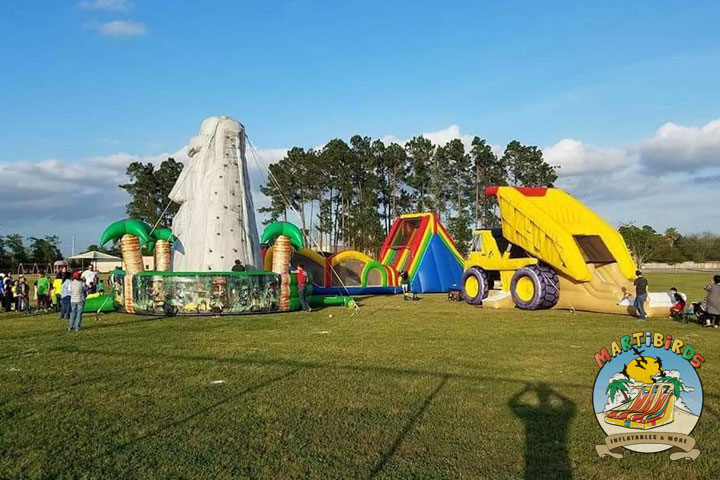 The Coolest Selection of Combo Bouncer Rentals Houston Has to Offer
Martibirds Inflatables is focused on supplying you with the widest variety of combo bouncer rentals Houston has to offer. We understand that kids love themed parties and we continuously add to our inventory to ensure that we can offer you a wide selection of popular themed combo bounce houses that are guaranteed to be a hit at any kids' party. Fun and colorful options for a superhero or princess-themed party? We've got you covered! We offer pirate-themed, Frozen-themed, and astro-themed combo bouncers and so many other inflatable options, including a toddler combo bouncer Houston little ones enjoy for hours on end.
No matter what your budget is, your party theme, or timeframe, you can trust Martibirds to deliver the best combo fun and thrills to your home or venue. We deliver combo bounce house rentals Houston can rely on to spice up any event all over the city, from birthday parties at home to local Houston parks and recreational sites as well as Houston ISD. Some of the local parks we often deliver and set up inflatable jump houses include Cullen Park, Memorial Park, and Spotts Park.
Martibirds is the local all-inclusive party rental company that offers dazzling combo rentals Houston parents, event planners, school administrators, and business owners rely on to bring fun to parties. We also carry water slides, obstacle courses, and interactive games to help take your event to the next level. Whether you are planning to treat your kids to a day of fun during the summer holidays or you are planning an elaborate grand opening and need popular kids' entertainment to keep them occupied, our combo bouncer rental Houston Texas loves will certainly make your event the talk of the town for all ages!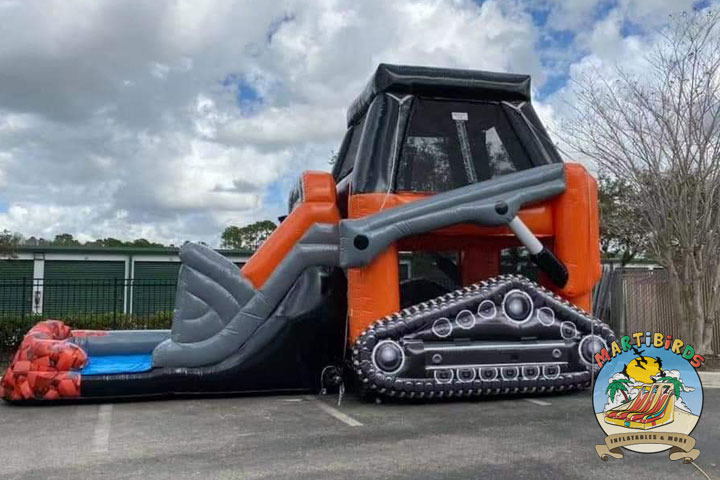 Reserve a Combo Bouncer Rental Houston TX Families Use Year-Round
The Martibirds team offers the best combo bouncer rental Houston TX families, clubs, schools, and companies in our community trust all year round. Our inflatable combo bouncers are available in a wide range of themes and vibrant colors, and our experienced team is ready to help you choose the best selection depending on your guest list, party theme, and budget. We take pride in having been part of hundreds of joyful celebratory events and memorable occasions including preschool graduations, slumber parties, church and youth group events, festivals, school field days, summer camps, and everything in between. If you are looking for a fun and festive combo bouncer, we've got you covered.
We work directly with Houston community organizations, churches, schools, clubs, daycare centers, and other groups to organize fun and fabulous events throughout the year. Our water bouncer rental Houston communities, schools, and churches rely on is the perfect party addition to outdoor events such as fundraisers, school festivals, church carnivals, and fairs. Keep the kids entertained and having a blast while beating the heat! Our combo jumpers combine the best of both worlds with an exhilarating slide and bounce house area. It's two-for-one fun!
We offer age-specific inflatable selections for a toddler combo bouncer rental Houston little ones love. These are specifically designed to ensure that toddlers and younger kids can have safe, interactive fun. You can choose from toddler combo bouncers such as our Tikki Island Combo which features a porthole, a tunnel, obstacles, and a fun volcanic slide, or our Barn Yard bounce house which lets the little ones pretend to be feeding pigs, riding horses, and so much more. Whatever the ages of your guest list, your theme, or your type of party, our team will be happy to help you find the perfect combo bouncer rental that will keep your little guests entertained for hours.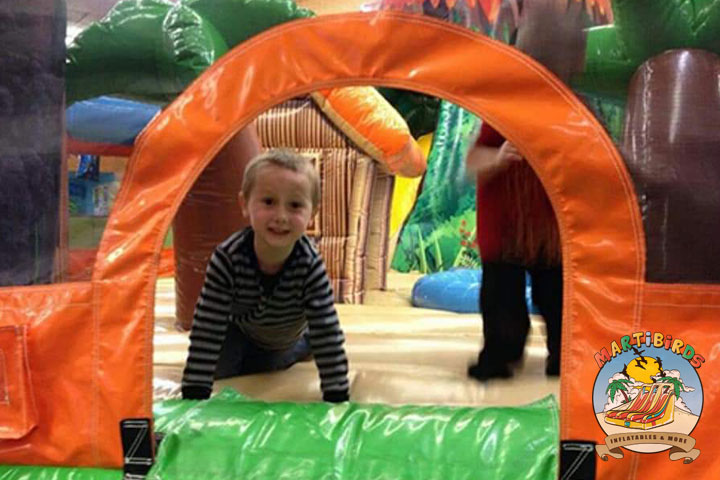 Why Choose Us for a Houston Combo Jumper Rental
We know there are many inflatable rental companies in the area, but there is a reason so many choose us for a Houston combo jumper rental they can depend on. For years, we have been delivering fun all over the city to thousands of backyards, schools, churches, companies, and neighborhoods. It doesn't matter what the theme, budget, or guest list looks like because, at the end of the day, Martibirds brings the fun in the form of dependable party rentals, which are perfect for entertaining kids of all ages and even adults too.
Our company is locally family owned and operated with friendly staff from the community. We know what it takes to party, but also know how to do it safely. With our team of friendly experts, you can rest assured that we are fully licensed and insured to handle your event, whether it's at the local schools or public parks. We carry the required minimum amount to be able to service just about any type of event or location. Our reputation speaks for itself, but just take a look around to see all the stellar reviews from our happy customers who come back year after year for their bounce house rentals. When you're searching for an indoor combo jumper Houston Texas loves or an outdoor combo slide to keep dozens of kids entertained, look no further than the high-quality selection of Martibirds!
When you contact us looking for a Houston combo jumper rental, we guarantee that you will be completely satisfied with your experience. Our inflatables are all commercial grade from the most reputable manufacturers in the industry. Everything is made from lead-free, fire-resistant vinyl. Each unit is thoroughly cleaned and sanitized before and after each event. No need to stress when our guys show up if the unit is damaged, moldy, or smells. Let us make your event hassle-free knowing the entertainment is handled for you with our bounce houses. Our delivery guys will show up to set up the best combo jump castle rental Houston has to offer and return after the event to pick it all up and get out of your hair in no time. Don't stress - call Martibirds and let us do the heavy lifting by keeping the kids entertained for hours on end!
How to Book Combo Bouncers Houston Can't Live Without
Booking your combo bouncers Houston children AND parents love has never been easier! With our totally interactive website that operates just like any other booking platform on the Internet today, you can reserve everything you need for the party 24/7 from just about anywhere. Whether you're on the go on your smartphone, watching TV on the couch on your tablet, or taking a break at work on your PC; just browse our website and click that red "Add to Cart" button to get started. It's that easy!
Follow the simple instructions to book our combo bouncers Houston kids can't get enough of:


Browse the selection of combos.


Click the red "Add to Cart" button.


Enter event date and time.


Fill in customer and event information.


Pay the minimum required deposit.


Digitally sign the contract.


That's it, just a few simple steps to reserve a Houston combo rental online as you would ordering anything else online. Our system will send a few confirmation emails about your rental and even some text messages to be sure we have everything you need. If you need to add any items leading up to your event, just give us a call! We would be happy to oblige. When it gets a little closer to the selected event date, we will be in touch with a delivery schedule and send over some quick tips and reminders about our bounce house rentals. If there are any special instructions for our delivery crew, please let us know right away so we can work out the details. It's that simple to book combo bouncer rentals in Houston!
Bringing the Fun to You with Houston Combo Bouncer Rentals
For years, we have been bringing fun to events all over with our Houston combo bouncer rentals. Chances are, you may have seen our company trucks on the road loaded down with the coolest combo inflatables in the Houston area. We service residential, commercial, schools, churches, and just about anyone else who is looking for a good time with an inflatable bounce house. Our delivery crews have been to numerous parks throughout the local area including the popular Levy Park, Sam Houston Park, Buffalo Bayou Park, and many more within the Houston Parks and Recreation Department. Be sure to check out all the requirements when hosting your event at a pavilion or shelter at any of the local parks.
We also service many schools in the Houston Independent School District plus many private schools as well, providing selections to suit all grades. Our Houston combo bounce house rentals can accommodate the little ones in elementary to the older ones in high school. College students love our bouncy houses too! We have done many deliveries to Texas Southern University, Rice University, and the University of Houston. School field water days are so fun, and our jumpers are a must-have! Just be ready to have a good time when our guys arrive.
You can expect to see our Houston adult combo bouncer selections at events for all the major pro sports teams like the Houston Texans at the NRG Astrodome or Houston Astros at Minute Maid Park or the Houston Rockets at the Toyota Center. We love our local professional sports and so do our customers. Our company takes great pride in knowing we are the go-to company for our favorite teams, players, and coaches when they need never-ending entertainment. They trust us to handle their events by delivering the best combo jumpers and slides and so should you. If you are planning to rent combo bouncers for adults Houston, please get in touch with our team.
While we service many of the folks within Harris County who are ready to rent a combo bouncer near me in house Houston enjoys, we also accommodate all the surrounding areas such as Spring, Cypress, The Woodlands, Pearland, Pasadena, Sugar Land, League City, Conroe, Missouri City, and Gulf Bay area including Baytown. There are countless cities surrounding Houston, so if you don't see your city listed above or on our service area page, just give us a call because chances are we can make delivery arrangements to your area of town. The Houston delivery area includes the following zip codes: 77002, 77003, 77004, 77005, 77006, 77007, 77008, 77009, 77010, 77011, 77012, 77013, 77014, 77015, 77016, 77017, 77018, 77019, 77020, 77021, 77022, 77023, 77024, 77025, 77026, 77027, 77028, 77029, 77030, 77031, 77032, 77033, 77034, 77035, 77036, 77037, 77038, 77039, 77040, 77041, 77042, 77043, 77044, 77045, 77046, 77047, 77048, 77049, 77050, 77051, 77053, 77054, 77055, 77056, 77057, 77058, 77059, 77060, 77061, 77062, 77063, 77064, 77065, 77066, 77067, 77068, 77069, 77070, 77071, 77072, 77073, 77074, 77075, 77076, 77077, 77078, 77079, 77080, 77081, 77082, 77083, 77084, 77085, 77086, 77087, 77088, 77089, 77090, 77091, 77092, 77093, 77094, 77095, 77096, 77098, 77099, and 77201.
FAQs About Our Combo Bouncers Houston, TX Locals Choose for Special Events
When it's time to pick the combo bouncers Houston, TX locals can't get enough of and decide which is the perfect fit for your event, there are many factors to consider. Over the years, we have compiled some of the most frequently asked questions to help customers along the way. If you have any additional questions, feel free to get in touch with us or browse our website for more information.
es, all our inflatable rentals require a $50 credit card deposit to reserve. Your deposit is fully refundable if you cancel your order at least 8 days prior to your rental date. If you cancel between 2-7 days prior to your rental, you will be given a rain check that is good for one year. If you rent a combo that Houston, TX uses for all events and need to cancel, get in touch with our team for more information on our cancellation policy.
Yes, each one of our Houston combo jumping castle rentals has been listed with its requirements. In addition to this, check to see that the location where it will be set up has minimum access of four feet. Because each jump can weigh up to 650 pounds, we need a runway that is unobstructed and has enough space to set up.
Yes. Usually, the quote you get will include the delivery, set up, and tear down, but our prices do not include the sales tax. Our prices are only applicable to the delivery areas and zip codes listed on our website. If you are located further outside of our delivery area, you may incur additional costs for delivery and setup. Please contact our team for a current quote.
If you have any additional questions, we welcome you to reach out to our experienced team for more information. We're here to make the process to reserve a combo jumper as simple as possible, so get in touch with our team today by giving us a call at (832) 414-0837 to speak with one of our team members directly!
Tips for Using Our Combo Jump House that Kids Loves at Parks
Wherever there's a party in Houston, you'll find Martibirds there delivering the fun! So many of our customers take their combo jump house Houston TX to local parks, and we can't say we blame them! Houston has some of the most amazing public parks in the country and we love delivering to them. You'll frequently find our bounce houses at Sam Houston Park, Hermann Park, Memorial Park, Levy Park, Buffalo Bayou Park, and more.
While we love our local parks and maintain a close relationship with the Houston Parks and Recreation Department, it's important to keep in mind that some Houston parks require you to bring your own power to keep your jump house inflated throughout the party. If you plan to host your party or event at a local park, be sure to read the park's rules and regulations to verify their inflatable jumping castle rentals policy. Should you be required to provide your own power source, Martibirds can help by including a generator in your rental. We're an all-inclusive party rental provider, so when you book combo jumpers in Houston TX with our team, we'll make sure you have all of the equipment necessary to throw an A+ bash!
5-Star Reviews for Our Combo Bouncer Rentals Houston TX Customers Can Trust
With thousands of events under our belts and tons of happy children and parents who love our combo bouncer rentals Houston TX can depend on, we have decided to compile a few testimonials for you to read at your convenience. But don't take our word for it! Browse around all the popular review sites or social media and even our Google listing for more.
Our customers love using our company knowing they can rely on us to deliver their indoor combo bouncer Houston can trust on time, every time for school and church events. They know and expect it to be cleaned and ready to go once our crews are done, hours ahead of your party start time. We take the stress out of party planning by offering reliable, affordable, and super-fun services and selections that cater to all events. For the #1 combo bouncer providers in the Houston Metro area, choose the team at Martibirds to ensure you have an unforgettable experience from start to finish.
Whatever your needs are for party equipment or combo bouncer rentals Houston TX loves, we have no doubts we're the best team to help you throw an unforgettable extravaganza for all ages! There are several reasons we're the top-rated company in the area for a combo bouncer in Houston and here are just a few reasons why:
"Super professional, great with communication! The Extreme dance party bounce house was a hit for my sons 8th birthday! Even the adults loved it, Shane did an amazing and quick set up! We will be returning customers!" -S. Trout
"We used Martibirds exclusively for Pin Oak Middle School's Charger Fest in March of 2022. They exceeded our expectations and made our first major in person event in over 2 years a huge success. We had so many people ask about their inflatables (for future events) after coming to our festival and seeing photos. Can't wait to use them again!" -L. Colvin
"Shawn was very friendly and talked to my grandson who was totally surprised with The Cowboy inflatable. Set up was quick. Even though the weather wasn't great, he and his buddies had the best time!" -S. Marshall