Top-Rated Water Slide Rentals Houston Can't Get Enough Of!
Looking for the best of the best when it comes to water slide rentals Houston goes crazy over? Here at Martibirds Inflatables and More, we have the largest selection of inflatable water slides in the area to choose from all the way from Houston, Texas to Gulf Bay! Whether you're hosting a birthday party, corporate event, or school function, if it's hot outside, you need a water slide to keep your guests cool, refreshed, and having a great time all party long.
There's no better way to beat the hot Texas heat than an exhilarating slip down a giant water slide and into a splash pool. Guests of all ages will be lining up to take a turn, getting in on the wet, wild fun. With the largest selection of water slide rentals in Houston, we have the perfect one to compliment your event. If you're hosting a large event, nothing draws in a crowd like our giant Purple Crush slide. Towering nearly four stories tall and 100 feet long, this monster water slide is perfect for big crowds. Hosting a smaller event? Don't worry, we've got you covered there, too. Our Master Blaster features dual lanes for double the sliding fun and is the perfect size for backyard birthday parties.
That's just the tip of the iceberg! We cater to every age range and theme, including toddler water slide rentals Houston parents can trust to keep their kids safe. We have so many slides to choose from in varying styles that the hardest part of reserving yours will be deciding which one you want at your event. We have the most exciting and tallestwater slides rentals Houston TX has available including our 27ft tall Hurricane slide - there's nothing else like it. Here you'll find a wide variety of water slides rentals that are sure to fit your event needs. Browse the selections above and click on the title or image for more information and to make a reservation with our water slide rentals Houston.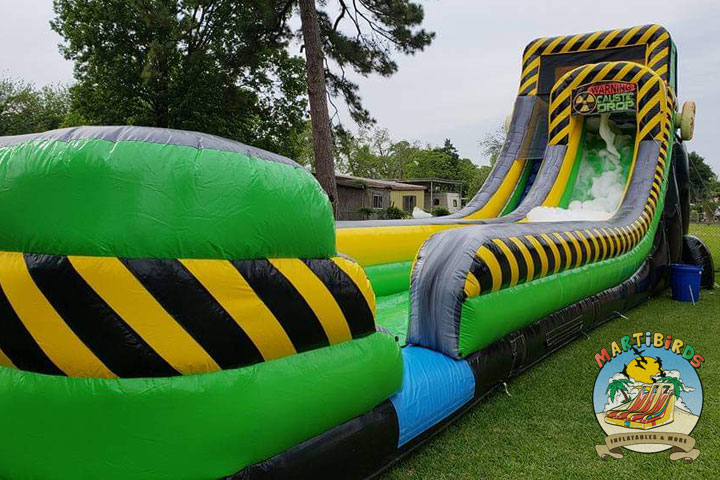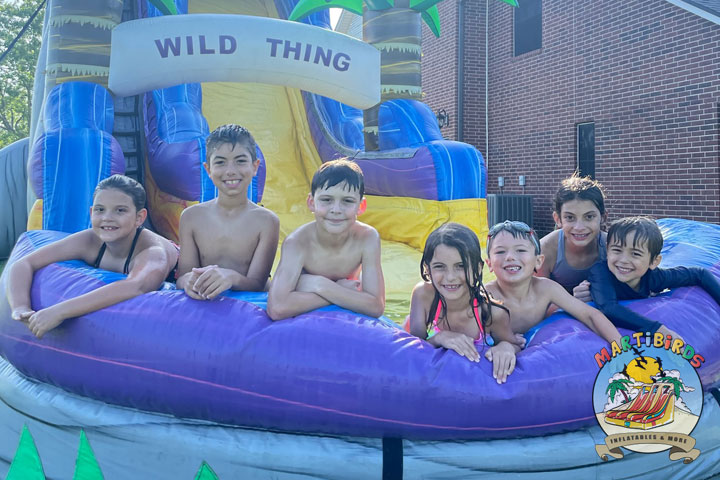 The Coolest Selection for a Water Slide Rental Houston Kids Love
When you are looking for the latest and greatest inflatable to turn your event into the most memorable experience ever, then you've come to the right place. We have one of the coolest selections for a water slide rental Houston kids love. Everyone knows they can rely on us for their summer parties! We have something to suit every age group or backyard size. Either way, we guarantee there is something on our website that is the perfect match for your party.
We have water slides ranging from 13 feet up to over 40 feet tall! Who knew these slides could be so amazing. There are so many configurations and color combinations to choose from too. Looking for a single-lane water slide Houston kids love for the younger crowd? No problem, we have some smaller options with splash pools available. Hosting an event with teenagers? Don't worry, we have options 27ft and taller with dual lanes for twice the fun with large catch pools at the end. Some even have inflatable slip n slides attached for ever more fun! The options are endless so take your time to look around at everything we have to offer because there is no shortage of amazing options!
The little ones love our combo units that have a water slide attached to the bounce house area. They are most popular for backyard birthday parties for kids ranging from ages 3 to 12. We have themes available to accommodate those favorite sports or characters. Our rentals for a waterslide in Houston pair perfectly with our wide assortment of other event equipment options! Throw in a little extra fun with some yard games to make it even more interesting. Don't forget the concessions for a tasty treat once they are done jumping and sliding. We carry high-quality bounce houses, dry slides, party rentals, dunk tanks, giant inflatable obstacle courses, and more to help make any event an over-the-top and memorable experience.
For the older crowd, be sure to check out the giant inflatable water slide rental Houston TX teens and adults love. They feature large catch pools at the end with single or dual lane configurations. It sure is a showstopper when our huge Tiki Plunge or Texas Throttle shows up at your event. If you've been on the hunt for the perfect huge water slide rentals Houston young adults can get on board with, look no further than our expansive entertaining options. For everything else in between, we have all kinds of slides to choose from. Nighttime party? Check out the Showtime with LED lights to keep the party going all night long with a water slide rental Houston. If you are unsure which slide to choose for your event, just give our experts a call because we have been planning amazing parties for years and know how to throw an unforgettable event in Texas! For the best variety of ​​water slides in Houston TX, give the team at Martibirds a call.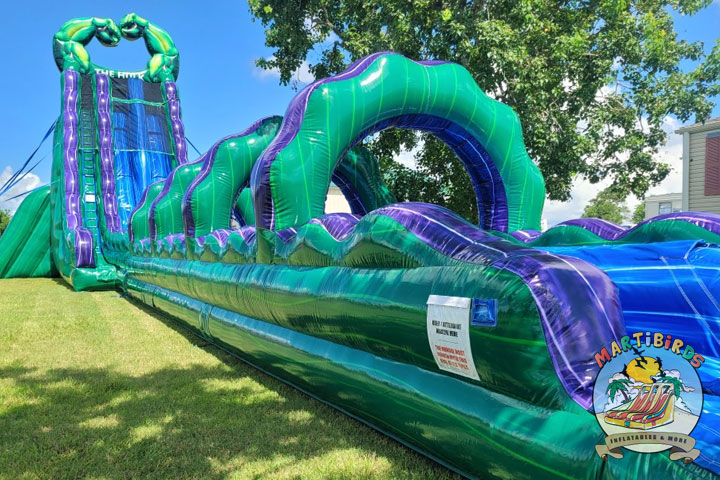 Why Choose Us for Water Slides for Rent Houston
We know there are many inflatable rental companies in the area but there is a reason so many choose us for water slides for rent Houston. For years, we have been delivering fun all over the city to thousands of backyards, schools, churches, companies, and neighborhoods. It doesn't matter the type of event because, at the end of the day, Martibirds brings the fun in the form of a giant inflatable water slide, which is perfect for entertaining kids of all ages and even adults too.
Our company is locally family owned and operated with friendly staff from the community. We know what it takes to party, but also know how to do it safely. With our team of friendly experts, you can rest assured that we are fully licensed and insured to handle your event, whether it's at the local schools or public parks. We carry the required minimum amount to be able to service just about any type of event or location. Our reputation speaks for itself, but if you don't believe us just take a look around to see all the stellar reviews from our happy customers who come back year after year for their water slides. When you're searching for waterslides for rent in Houston, look no further than the high-quality selection of Martibirds!
When you contact us looking for water slides for rent Houston kids adore, we guarantee that you will be completely satisfied with your experience. Our inflatables are all commercial grade from the most reputable manufacturers in the industry. Everything is made from lead-free, fire-resistant vinyl. Each unit is thoroughly cleaned and sanitized before and after each event. No need to stress when our guys show up if the unit is damaged, moldy, or smells. Let us make your event hassle-free knowing the entertainment is handled for you with our water slides. Our delivery guys will show up to set up the waterslides in Houston and return after the event to pick it all up like we were never even there. Don't stress, call Martibirds and let us do the heavy lifting by entertaining all the kids.
How to Book Water Slide Rentals Houston TX
Booking your water slide rentals Houston TX has never been easier! With our totally interactive website that operates just like any other booking platform on the Internet today, you can reserve everything you need for the party 24/7 from just about anywhere. Whether you're on the go on your Smartphone, watching TV on the couch on your tablet, or taking a break at work on your PC; just browse our website and click that red "Add to Cart" button to get started. It's that easy!
Follow the simple instructions to book our water slide rentals Houston TX kids love:


Browse the selection of water slides.


Click the red "Add to Cart" button.


Enter event date and time.


Fill in customer and event information.


Pay minimum required deposit.


Digitally sign content.


That's it, just a few simple steps as you would ordering anything else online. Our system will send a few confirmation emails about your rental and even some text messages to be sure we have everything you need. If you need to add any items leading up to your event, just give us a call! We would be happy to oblige. When it gets a little closer to the selected event date, we will be in touch with a delivery schedule and send over some quick tips and reminders about our water slides. If there are any special instructions for our delivery crew, please let us know right away so we can work out the details. It's that simple to rent water slides in Houston!
Bringing Fun to You with Houston Water Slide Rentals
For years, we have been bringing fun to events all over with our Houston water slide rentals. Chances are, you may have seen our company trucks on the road loaded down with the baddest water slides in the Houston area. We service residential, commercial, schools, churches, and just about anyone else who is looking for a good time with an inflatable water slide. Our delivery crews have been to numerous parks throughout the local area including the popular Levy Park, Sam Houston Park, Buffalo Bayou Park, and many more within the Houston Parks and Recreation Department. Be sure to check out all the requirements when hosting your event at a pavilion or shelter at any of the local parks.
We also service many schools in the Houston Independent School District plus many private schools as well, providing selections to suit all grades. Our Houston water slides can accommodate the little ones in elementary to the older ones in high school. College students love our water slides too! We have done many deliveries to Texas Southern University, Rice University, and the University of Houston. School field water days are so fun, and our water slides are a must-have! Just be ready to have a good time when our guys arrive.
You can expect to see our waterslides to rent in Houston at events for all the major pro sports teams like the Houston Texans at the NRG Astrodome or Houston Astros at Minute Maid Park or the Houston Rockets at the Toyota Center. We love our local professional sports and so do our customers. Our company takes great pride in knowing we are the go-to company for our favorite teams, players, and coaches. They trust us to handle their events by delivering the best Houston water slide rentals, and so should you.
While we service many of the folks within Harris County with our waterslides in Houston TX, we also accommodate all the surrounding areas such as Spring, Cypress, The Woodlands, Pearland, Pasadena, Sugar Land, League City, Conroe, Missouri City, and Gulf Bay area including Baytown. There are countless cities surrounding Houston, so if you don't see your city listed above or on our service area page, just give us a call because chances are we can make delivery arrangements to your area of town. The Houston delivery area includes the following zip codes: 77002, 77003, 77004, 77005, 77006, 77007, 77008, 77009, 77010, 77011, 77012, 77013, 77014, 77015, 77016, 77017, 77018, 77019, 77020, 77021, 77022, 77023, 77024, 77025, 77026, 77027, 77028, 77029, 77030, 77031, 77032, 77033, 77034, 77035, 77036, 77037, 77038, 77039, 77040, 77041, 77042, 77043, 77044, 77045, 77046, 77047, 77048, 77049, 77050, 77051, 77053, 77054, 77055, 77056, 77057, 77058, 77059, 77060, 77061, 77062, 77063, 77064, 77065, 77066, 77067, 77068, 77069, 77070, 77071, 77072, 77073, 77074, 77075, 77076, 77077, 77078, 77079, 77080, 77081, 77082, 77083, 77084, 77085, 77086, 77087, 77088, 77089, 77090, 77091, 77092, 77093, 77094, 77095, 77096, 77098, 77099, and 77201.
Waterslide Rentals Houston FAQs
We know picking and choosing which waterslide rentals Houston is right for you can be stressful and there may be questions during the process. Over the years, we have tried to compile some of the most frequently asked questions to help customers along the way. While there are many other questions that may arise, here are a few questions that we often get about our inflatable water slide rentals in Houston:
If you have any additional questions, we welcome you to reach out to our experienced team for more information. We're here to make the commercial-grade water slides Houston process as easy and convenient as possible for you. And don't forget, we offer bounce houses, too!
Tips for Using Our Inflatable Water Slide Rental Houston Parks
Wherever there's a party in Houston, you'll find Martibirds there delivering the fun! So many of our customers take their inflatable water slide rental Houston to local parks, and we can't say we blame them! Houston has some of the most amazing public parks in the country and we love delivering to them. You'll frequently find our water slides at Sam Houston Park, Hermann Park, Memorial Park, Levy Park, Buffalo Bayou Park, and more.
While we love our local parks and maintain a close relationship with the Houston Parks and Recreation Department, it's important to keep in mind that some Houston parks require you to bring your own power to keep your water slide inflated throughout the party. If you plan to host your party or event at a local park, be sure to read the park's rules and regulations to verify their inflatable waterslide rentals policy. Should you be required to provide your own power source, Martibirds can help by including a generator in your rental. We're an all-inclusive party rental provider, so when you book water slides for rent in Houston Texas with our team, we'll make sure you have all of the equipment necessary to throw an A+ bash!
Testimonials from Past Customers Who Love Our Inflatable Water Slide Rentals in Houston
With thousands of events under our belts and tons of happy children and parents who love our inflatable water slide rentals in Houston, we have decided to compile a few testimonials for you. But don't take our word for it! Browse around all the popular review sites or social media and even our Google listing for more. Our customers love using our company knowing they can rely on us to deliver their water slide on time, every time. They know and expect it to be cleaned and ready to go once our crews are done, hours ahead of your party start time.
Whatever your needs are for party equipment or inflatable water slide rentals in Houston, we have no doubts we're the best team to help you throw an unforgettable extravaganza for all ages! There are several reasons we're the top-rated company in the area for water slides rentals in Houston and here are just a few reasons why:
"Been using Mardibirds for several years! Would recommend to anyone! They always have moonwalks to match every occasion! I get so many compliments at the kids parties every year on how the moonwalk matches perfect! Timely set up and great customer service!" -R. Sadler III
"Larry and his crew are amazing. Did not take long to set up. Very professional and will definitely be using them again in the near future! They came earlier than the normal time and picked up the next morning! All adults and children all had an amazing time on the volcano waterslide! If you want the best water slides I would definitely recommend using them!" -S. Rodriguez
"We had such a great experience with this rental company. The prices are amazing, the delivery guys are super awesome, and they are just over all amazing. I would recommend them to everyone. Thank you for helping us make our son's birthday party special." -B. Vermillion