The Best Party Rentals La Porte TX Has to Offer!
To book the best party rentals La Porte TX families, event planners, and organizations can't get enough of, view our expansive online inventory of entertaining selections and get the party started today! Whether you're throwing an over-the-top Sweet 16 birthday celebration or a carnival-themed fundraiser for a local nonprofit, we have the fun, festive, and fabulous selections of party equipment that will help make certain the entire guest list has a memorable and engaging experience.

From interactive games that will blow people away to mechanical rides that keep kids entertained for hours on end, we carry unparalleled party rentals Houston families, students, business owners, and residents choose for all of the important moments worth celebrating. We're happy to offer delivery to all areas of La Porte, Texas, and the surrounding communities of Harris County and Chambers County. Get in touch with our friendly and knowledgeable team today to learn more about how to take your party to the next level with special occasion party rentals La Porte TX can't live without!

From graduation celebrations to family reunions, we have the ultimate selection of party rentals La Porte guests will enjoy for a variety of occasions. Shop our broad collection of toddler inflatables, bounce houses, obstacle courses, outdoor movie screens, and more to make sure your event goes off without a hitch. We're here to help take the stress out of party planning so you can enjoy the festivities just as much as your guests! Book the #1 party equipment online or get in touch with one of our team members to raise the roof on your party experience with the best in the biz today.
Get the Party Started with Party Rental La Porte TX Area Loves
Make the most out of any family gathering, large corporate event or local festival with a range of options for a party rental La Porte TX guests will enjoy for countless hours! There's no need to stress about how to entertain people attending an upcoming quinceñera, company picnic, church festival, or baby shower. We regularly work with Goose CISD, local businesses, daycare centers, and other organizations to help create buckets of fun for every occasion. We're La Porte's all-inclusive event rental provider, and we handle all of the little details so you can focus on having FUN!

Whether you're on the hunt for carnival party rentals La Porte TX schools, businesses, and churches use for festivals and fundraisers or an obstacle course to treat your employees to during an exciting team-building weekend, we've got you covered.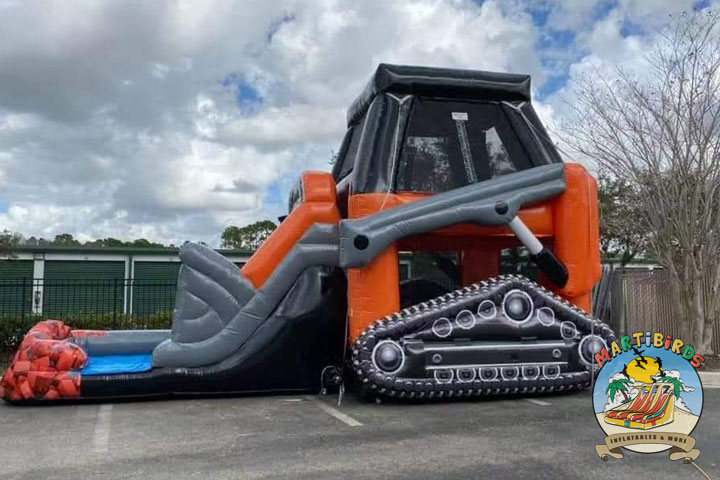 We have no shortage of high-quality, engaging, show-stopping party rentals that are fun for all ages. Search through our categories to find the best inflatables, interactive games, or water slides to help make your next party an unforgettable experience.

Want to add unmatched excitement to a school field day? Our Tiki Island Rock Wall stands at 28 feet tall with a double climbing wall, creating hours of friendly competition and memorable moments for all ages! Complete with two Martibirds staff members, this inflatable climbing wall is a super safe and secure option for kiddos of all ages. Bring non-stop fun with this attraction and countless others like our birthday party rentals La Porte TX parents and kids use to create lasting memories and celebrate their loved ones year-round!

View our amazing selections online and choose the best party rental La Porte TX residents choose for any budget, theme, or style of event year-round. We're confident we have the selections that will keep your guests entertained and having the time of their lives while sharing special moments that last a lifetime. Schedule your rental today from the comfort of your home or while on the go running errands with our convenient online scheduling tool! Our friendly and experienced team of party people is here to help guide you through each step of the rental process, so don't hesitate to reach out if you have any questions about our policies, procedures, or products.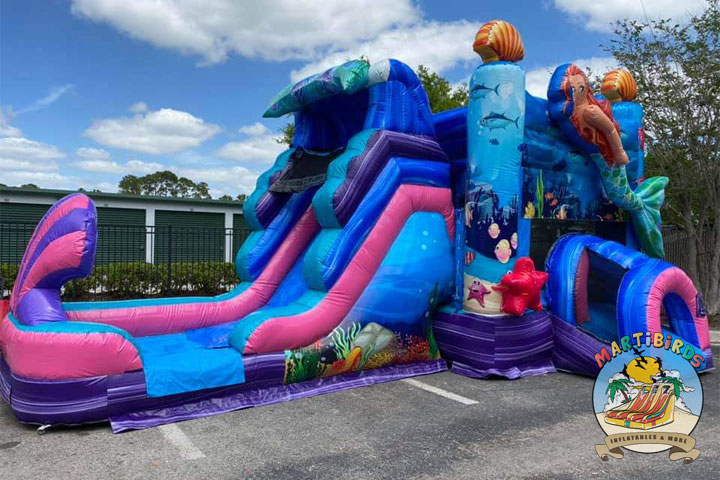 Fun and Festive Party Rental La Porte TX Event Planners Rely On
If you're searching for high-quality options for a party rental La Porte TX event planners, parents, business owners, and residents just can't get enough of, you've come to the right place. Throw a mesmerizing foam party for the entire neighborhood or add popular concessions like cotton candy or snow cones to your child's school field day with the help of our cost-effective and convenient event equipment options. The best part of our job is offering a wide range of event rentals that suit any possible style of party, allowing us to be part of thousands of unbelievable memories throughout the years.

We carry event furniture including canopies, folding chairs, and tables that help to ensure everyone has a seat to enjoy the ceremony and celebrate the happy couple.
Whether you're planning an elegant outdoor wedding and need extra seating or are putting together a classy and intimate rehearsal dinner, our range of La Porte TX party rentals wedding planners rely on for all of their wedding-related event needs are an affordable, reliable, and versatile option for bridal showers, rehearsal dinners, engagement parties, and everything in between! We carry event furniture, including canopies, folding chairs, and tables that help to ensure everyone has a seat to enjoy the ceremony and celebrate the happy couple.

Whatever your needs are for a party rental La Porte TX communities love, shop our wide range of options online and get the party started with our impressive equipment today! Feel free to reach out to our team directly if you'd like a custom quote to cater to your specific event needs.

Kids Party Rental La Porte TX Parents Trust for a Range of Events
While we offer options for all ages and occasions, we specialize in kids party rental La Porte TX parents can depend on to provide the fun in a safe, reliable and affordable way. From mega Star Wars-themed immersive bounce house experiences to toddler-specific inflatables that keep the little ones entertained, we have party equipment rental options that speak to every child's ultimate party goal: to have FUN!

We offer the best kids birthday party rentals La Porte TX parents choose repeatedly because they know they can trust our experienced team to deliver festive options that keep kids busy while prioritizing their safety above all else.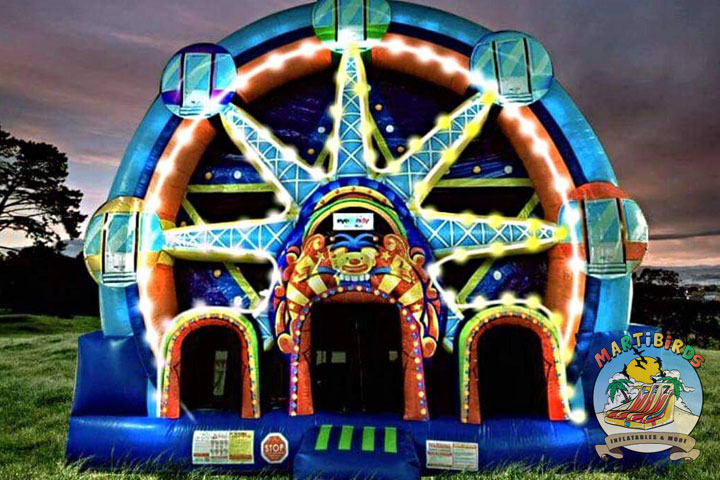 Whether you're interested in a princess-themed bounce house for an upcoming slumber party or need event rentals for a school fundraiser, our team is here to help guide you through your kid's party rental options and help you get on the books today! If you've been searching for the perfect kids party rentals La Porte TX families rely on to put the fun into functions, choose the team at Martibirds Inflatables for all of your event planning needs!
Why Choose Us for Your Party Rental in La Porte TX
We know there are many inflatable rental companies in the area but there is a reason so many choose us for their party rental in La Porte TX. For years, we have been delivering fun all over the city to thousands of backyards, schools, churches, companies, and neighborhoods. It doesn't matter the type of event because Martibirds brings the fun in the form of a range of entertaining inflatables, interactive games, mechanical rides, and more, which is perfect for entertaining kids of all ages and even adults.

Our company is locally family owned and operated with friendly staff from the community. We know what it takes to party, but also know how to do it safely. With our team of friendly experts, you can rest assured that we are fully licensed and insured to handle your event, whether it's at the local schools or public parks. We carry the required minimum amount to be able to service just about any type of event or location. Our reputation speaks for itself, but if you don't believe us just take a look around to see all the stellar reviews from our happy customers who come back year after year for their water slides. When you're searching for party equipment rental La Porte can rely on, look no further than the high-quality selection of Martibirds!

When you contact us looking for a party rental in La Porte TX, we guarantee that you will be completely satisfied with your experience. Our inflatables and interactives are all commercial grade from the most reputable manufacturers in the industry. Everything is made from lead-free, fire-resistant vinyl. Each unit and piece of equipment is thoroughly cleaned and sanitized before and after each event. No need to stress when our guys show up if the unit is damaged, moldy, or smells. Let us make your event hassle-free knowing the entertainment is handled for you with our range of fun and festive options. Our delivery guys will show up to set up the La Porte TX party rentals and return after the event to pick it all up like we were never even there. Don't stress, call Martibirds and let us do the heavy lifting by entertaining the entire guest list.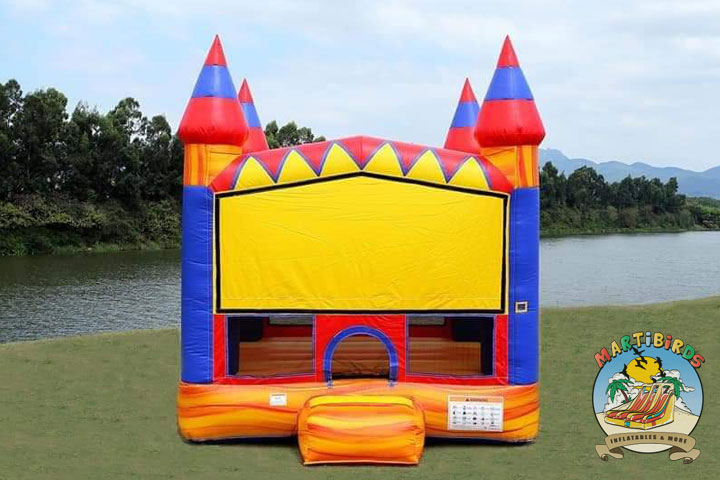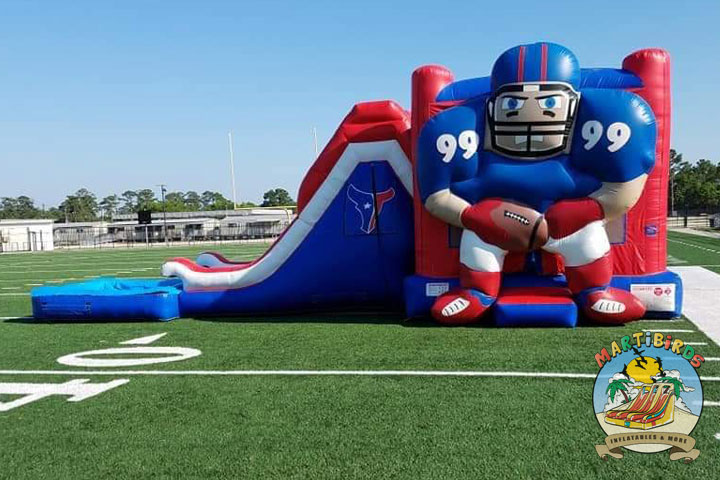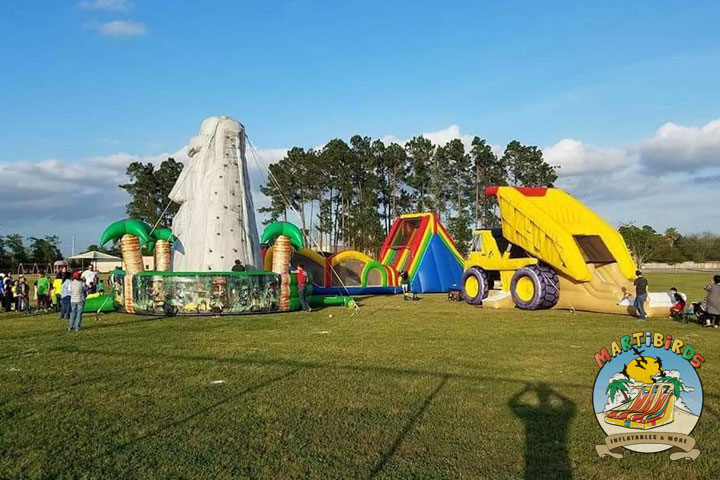 How to Book the Party Rental La Porte Texas Can't Get Enough Of!
Booking your party rental La Porte Texas uses to deliver the fun to any event has never been easier! With our totally interactive website that operates just like any other booking platform on the Internet today, you can reserve everything you need for the party 24/7 from just about anywhere. Whether you're on the go on your Smartphone, watching TV on the couch on your tablet, or taking a break at work on your PC; just browse our website and click that red "Add to Cart" button to get started. It's that easy!

Follow the simple instructions to book our party rental La Porte Texas loves:
Browse the selection of party rentals.
Click the red "Add to Cart" button.
Enter event date and time.
Fill in customer and event information.
Pay minimum required deposit.
Digitally sign the contract.

That's it, just a few simple steps as you would ordering anything else online. Our system will send a few confirmation emails about your rental and even some text messages to be sure we have everything you need. If you need to add any items leading up to your event, just give us a call! We would be happy to oblige. When it gets a little closer to the selected event date, we will be in touch with a delivery schedule and send over some quick tips and reminders about our water slides. If there are any special instructions for our delivery crew, please let us know right away so we can work out the details. It's that simple to rent La Porte TX inflatable rentals!
Bringing Fun to You with Our Party Rental in La Porte
For years, we have been bringing fun to events all over with our options for a party rental in La Porte. Chances are, you may have seen our company trucks on the road loaded down with the coolest event equipment in the La Porte area. We service residential, commercial, schools, churches, and just about anyone else who is looking for a good time with inflatables, games, concessions, and more. Our delivery crews have been to numerous parks throughout the local area, including the popular Seabreeze Park, 14th Street Park, Little Cedar Bayou Park, and many more within the La Porte Parks and Recreation Department. Be sure to check out all the requirements when hosting your event at a pavilion or shelter at any of the local parks.

We also service many schools in the La Porte Independent School District plus many private schools as well, providing selections to suit all grades. Our La Porte Texas party rentals can accommodate the little ones in elementary school and the older ones in high school. College students love our event equipment too! We regularly deliver to local campuses for a range of sorority and fraternity-themed events. School field days are so fun, and our party rentals are a must-have! Just be ready to have a good time when our guys arrive. Whether you're searching for party rental equipment La Porte loves to treat your kid's basketball team to lots of fun after a rewarding season or are looking for a unique way to offer team-building in a corporate setting, we have you covered.
While we service many of the folks within Harris County as one of the most reputable party rental places in La Porte, we also accommodate all the surrounding areas such as Crosby, Deer Park, Spring, Cypress, The Woodlands, Pearland, Pasadena, Sugar Land, League City, Conroe, Missouri City, and the Gulf Bay area, including Houston. There are countless cities surrounding La Porte, so if you don't see your city listed above or on our service area page, just give us a call because chances are we can make delivery arrangements to your area of town. The La Porte delivery area includes the following zip codes: 77571 and 77572.
NOTE: Extra fees may vary depending on how far you are outside our service area.
Party Rental in La Porte Texas FAQs
We know picking and choosing which party rental in La Porte Texas is right for your particular event can be stressful, and you might need additional information during the process. Over the years, we've compiled some of the most frequently asked questions to help customers along the way. While there are many other factors to throwing a successful and festive event that may arise, here are a few questions that we often get about our selections for a party rental in La Porte:
Q.
Does the pricepoint include delivery and setup of party equipment?
A.
In general, yes. Our listed price points always include the setup of equipment and delivery within our traditional service area, however, in certain instances, we do charge additional fees for traveling outside of our regular areas. We'll always communicate any additional costs before the event date. Please note that the listed product prices don't include sales tax. To see the grand total of your rental purchase, add all of the products to your cart and proceed to the checkout page where you can view sales tax and rental prices together. If you'd like a custom quote for your particular party rentals La Porte area relies on, get in touch with our helpful team to discuss your options and get the party started!
Q.
How much do your party rentals cost?
A.
A: Our prices vary based on the type of equipment, size, and rental period. We exceed expectations by offering amazing options that work for a range of themes, budgets, and timeframes. We understand many people are searching for cheap party rentals in La Porte, but along with affordable, reasonably-priced selections, we prioritize helpful customer support and guaranteed on-time delivery to help take the stress out of the party planning process.
Q.
Do you require a deposit for your rentals?
A.
Yes, all of our orders require a $50 deposit paid through our online system or over the phone with the help of one of our staff members. This is a fully refundable deposit and your order can be canceled up to eight days prior to your scheduled event date. If canceling 2-7 days before the day of your rental, we will provide a rain check for the deposit amount to be applied to a future rental within one year of the original event date. If you have any questions about our cancelation policies in regards to our party rentals in La Porte area, don't hesitate to give us a call to learn more about our policies, procedures, and products.
Q.
What forms of payment do you accept?
A.
We accept all major credit cards through our online scheduling system or exact cash if paying in person the day of the event. Our drivers do not carry cash, so you must provide the exact amount if using this method of payment. A $50 refundable deposit must be made by credit card either online or over the phone to confirm your party rental in Houston reservation.
If you have any additional questions, we welcome you to reach out to our experienced team for more information. We're here to make the commercial-grade party equipment rentals La Porte process as easy and convenient as possible for you. And don't forget, we offer bounce houses, too!
Tips for Using Our Cheap Party Rentals in La Porte Parks
Wherever there's a party in La Porte, you'll find Martibirds delivering the fun! So many of our customers take their cheap party rentals in La Porte to local parks, and we can't say we blame them! La Porte has some of the most amazing public parks in the area, and we love delivering to them. You'll frequently find our water slides at Seabreeze Park, 14th Street Park, Little Cedar Bayou Park, and more. Make sure you have plenty of seats, coverage, and other essentials for throwing a successful outdoor event in style.

While we love our local parks, it's important to keep in mind that some La Porte parks require you to bring your own power to keep the party equipment inflated throughout the party. If you plan to host your event at a local park, be sure to read the park's rules and regulations to verify their policy on inflatable rentals. Should you be required to provide your own power source, Martibirds can help by including a generator in your rental. We're an all-inclusive party rental provider, so when you book equipment with our team, we'll make sure you have all of the equipment necessary to throw an A+ bash!